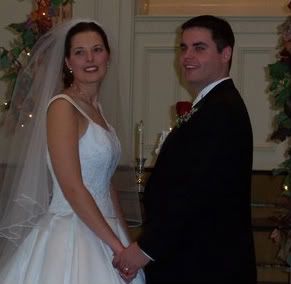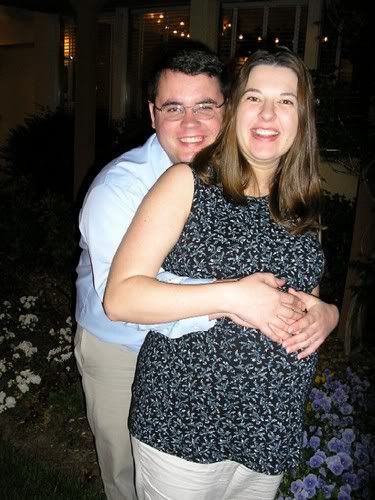 Saturday, October 18, 2003 a tall, dark haired young man stood at the front of a church and waited for me to walk down the aisle to be his bride. He was full of vision, structured, thought-provoking, and trying with all his might to grow to understand and walk in his calling with his Savior. He wrote me a note on our wedding day that I will hold on to forever. He spoke of our life together, our future children and ministries, our love for one another and for Christ. It has been 5 years since that day, and every day - even the rough ones - I am so glad that he waited for me at the front of that church. I am often amazed at how God allowed us to grow little by little more unified before we were able to see the depths of each other's depravity. As iron sharpens iron, so one man sharpens another. Our marriage speaks loudly of the truth of this scripture. Nathan has sharpened me, encouraged me, prayed for me, walked patiently beside me, endured my hormonal, chaotic seasons with grace, and has held me and loved me more than I deserved or could imagine. When my anger or selfish desires cause me to sin against my husband, he repeatedly does just as Christ did for the church, pr
esenting me, as utterly undeserving as I am, as a pure and spotless bride. Even in my depravity, I am proud to be fully known by him because he continues to seek to love me like Christ loved his church.
I saw him cry tears of joy when we brought children into the world. I saw him weep over the destruction of his parents' marriage and the loss of several loved ones in the last few years. I saw him dance and giggle with his little girl and jostle and wrestle with his little boy. He loves to read the scriptures and teach them to those he loves. He sacrifices much so that his family can flourish.
Today, I look at a man that is living out his calling as a husband and father through his relationship with his heavenly father, a man who savors the Scriptures and longs for His Savior, Jesus Christ, a man who prays for and encourages his neighbors.
I'm thankful today that God gave Nathan to me. I'm also thankful that He didn't just leave us in the depth of our depravity, but God gave us reconciliation through His Son, and what a joy it is to be able to daily live and practice the ministry of reconciliation in my marriage! Thank you Father for such a sweet, sweet gift!